I looked at my calendar and suddenly it's March 23rd! I had been meaning to post sooner, but Life got in the way … you know how it is …
I had thought my video card was crapping out on me, it turned out to be my monitor. I'm partly relieved, but partly upset because this thing was only a few months out of warranty! :( Oh well, this gives me the excuse I needed to start saving up for an LCD … which is what I've been wanting for a while anyways! :)
I'm looking at replacing my case in the new few weeks. I finally ran across an aluminum/window case that I actually like! It'll look great with all my green lights and fans. :D
Work has been mega busy … but I'm starting to think that maybe I need to find another job. There have been several legal-related issues that are bothering me lately. One of which is their refusal to pay me proper OT pay for my time spent working from home at night and on the weekends. Their current stance is that any time over 40 hours earned on company property is considered Over Time, but otherwise I'd get regular pay.
I know this is against the law, and that I have rights … BUT I also get to leave early on Fridays a lot. The last time I brought this up, it was suggested that I started staying late on Fridays.
Anyways, the amount I'm not getting paid isn't really enough to bitch about, but lately it's been several things hitting me all at once. Without going into too much detail, let me just say that there have been practices I've observed there that make me question their business ethics. Call me what you will, but I don't like working for "questionable" businesses.
It seems the more I get to know the business owners, the less I like them. Oh well, it's a job, and I have bills and a family … and a case to buy. (heh)
On a lighter note, I've found a new addiction … Neopets. Go ahead, laugh … it's ok. A friend of mine finally talked me into signing up. I did it thinking I could sign up, and give the account to Jessie because it looks like something for kiddies. I have to admit I'm a bit impressed. Their whole site and system integrated … even their little flash games interact with the site. Someone obviously put a lot of hard work into this thing.
And my pet is so cute. :D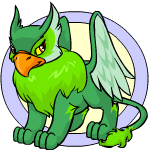 This is Naiasys, my pet Eyrie. He's basically a griffin. I feed, house, play with, shop for, groom, and train him.
I'm a sucker for "cute" … (shut up, Matt! ;P) … I felt pretty proud of myself on the name. I wanted something that sounded Egyptian, so I threw together a few syllables: N'eye-uh-sis.
Anyways, other news: both the UAB and UA men's basketball teams made it to Sweet 16, so I'm thrilled! :)
ROLL TIDE!!!!!! (and go blazers! ;))